Highest Standard of Care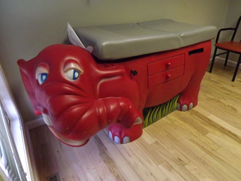 Our patients come first at Dr. J. Pediatrics.
With decades of experience working with children, our focus has been on making their trips to the doctor as easy and comfortable as possible.
Kids look forward to the brightly-colored rooms, play areas and exam tables in fun animal shapes. It won't matter to them that they play in a different area when they are well than when they are sick.
Parents will rest assured knowing that Dr. J. Pediatrics has focused on every detail to keep kids happy and healthy. We have combined classic medical training with state-of-the-art technology. We rely on the highest standard of care with proven treatment methods.
We believe that very rarely is there only one right answer. A benefit of our privately-owned practice is that we take the time to listen to parents and patients. You will not feel rushed or talked down to. Each visit includes a discussion so parents are empowered with information and options.
To that end, Dr. J. Pediatrics also provides alternative treatments. We are certified in homeopathic medicine. We have had countless successes with homeopathy in our own homes with our own families. Now, we offer this option for our patients who are interested.
Some of the additional treatments offered at our practice that are less common among most pediatricians include:

● IVs

● Surgical removal of warts

● Cosmetic stitching

● Some trauma and urgent care

● Support of breastfeeding mothers

● Homeopathy and alternative treatments
Our Team















Payments

Pay with or without a PayPal account.